STORE HOURS
9 TO 6 CDT
GMT minus 5 hours
Monday thru Friday
(800) 338-8863
1 (906) 864-1437

ORDERING INFORMATION:
MINIMUM ORDER:
Minimum Order $20
SHIPPING POLICY:
Priority Mail shipping for most items. UPS by request.
You MUST browse the Catalog area, and try to learn what you want. We no longer search our catalog for you.
Have this information ready:
1. Description of parts
2. Part Numbers
3. Prices
4. Dimensions where needed
BEFORE you call us please.
Make sure you are in the catalog area for your kind of piano--
Such as Grand Pianos,
Full Uprights, Spinets, etc.
If you are confused, call us for assistance.
If we do not answer the phone, we are probably here-- Just leave a message- we will return your call (it may not be the same day).
:-)
PIANO REPAIR:
HAMMER WORK AND REPLACEMENT TOOLS

SEARCH THE WHOLE SITE
Other tools not found on this page can be seen
by hitting links at the bottom of this page.
Grand and Upright Piano Hammers
---
HAMMER WORK TOOLS
These tools are necessary if you intend to do a whole
set of hammers--
Even a whole section. They assure you the best
chance of removing the old hammer without damaging the shank.
Also, you can choose to buy hammers without holes drilled and
do them yourself. For square grands this is absolutely needed.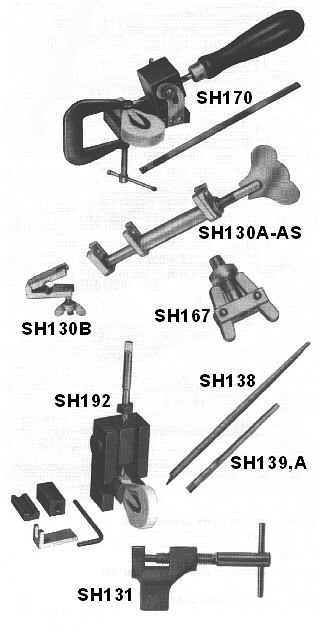 Part Number Price
Hammer head and butt boring jig-
The correct angle of boring is set easily
by using the adjacent hammer.
Essential where a number, of full set,
of hammers is being fitted- SH170 $ 56.75
Hammer Head Remover and Butt Extractor--
FOR UPRIGHTS ONLY
Hammers are often removed by crushing the molding. This damages the shank and can break it.
This tool pulls the hammer molding off by force under control.
The bevelled plate is for angled hammers-
Spinets model SH130AS $ 44.50
Upright model SH130A $ 46.75
Do NOT use on grands (see below)
Clamp- Used with 130AS and A
This clamp is used where a shank is broken. It is attached so that the hammer can be pulled
with the Extractor. SH130B $ 32.50

Grand Shank Press (Hammer Head Remover)--
This cute little rascal works great-- It presses the shank out of the hammer
head molding without destroying everything-- ONLY for Grands-- SH131 $ 35.00
Boring Out Guide- When the hammer shank breaks off at the hammer molding or at the butt,
cut the excess smooth, set up this tool like a small vise, then drill down through it to
center the hole- SH167 $ 53.50
Hammer shank reducer-- See in the graphic up the page.
Universal handle needed- SH 26 below
Use to shave hammer shank if it is too large. SH75 $ 26.25

Drills for hammers and shanks- Has a point on the tip of the drill to show when the
drill is just about through the grand piano hammer molding. This allows for the glue to
exit the hole and not block assembly due to hydraulics-
Upright- 7/32" SH76A $ 19.00
Grand- 13"64" SH76B $ 19.00
Spinet- 3/16" SH76C $ 19.00
Combination handle should be used for control
A power tool should only be used if you are using a drill press
where you have control of drilling depth.
Universal handle SH26 needed- See below
Grand Hammer Head Rasp-- Universal Handle 15152 needed-- SH138 $ 15.00
Grand Hammer Head Reamer--
It is quicker and more accurate to ream the hammer head than to reduce the shank--
Square end for No. 989 Tap Wrench-- SH139 $ 28.00
Chuck end for Universal Handle SH26 needed-- See below SH139A $ 38.00
Hammer Felt Head Iron--
Used to iron hammer heads and harden and smooth them Electric soldering iron type
heating unit and handle, but in place of the normal soldering tip, a brass iron is attached.
Made by Weller-- 80 watts SH905 $ 113.25
Same as above, but 40 watts SH905A $ 90.00

Same iron, but hard wood handle, and head must be heated in a flame SH113 $ 33.50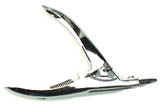 Hammer Shank Cutter- When replacing and repairing many
hammer shanks, this tool will make a clean and easy
cut of the wooden shank- SH237 $ 12.50
Voicing Tool-- Curved head for better angle of work
The professional way to voice hammers to quiet them-- Part No. in graphic-- 160935A SH103C $ 34.00
Needles for above voicing tool-- 20 per package SH107 $ 4.00

Universal Handle-- High Quality
Tool Steel with high impact plastic handle.
Tools are held tight and released by turning
a compression knurled bezel. Fits all
regulating tools which come without a handle.
See handle graphic at right SH26 $ 38.00
---

FIND HAMMER SHANK REPAIR PARTS
Hammer Felt Hardening Treatments
Read my instructions on
panic hammer repair, and
hammer shank repair
OTHER REPAIR AND RESTORATION TOOLS:


ORDER BY PHONE WITH CREDIT CARD
CALL TOLL FREE: (800) 338-8863
If there is no answer, please leave a message- we do answer our voicemail

OR:
Go to Mail Order Form for printing: