Center pins. PIANO OWNER'S SURVIVAL GUIDE- Piano Parts Catalogue / Catalog. Repair, restore, and tune your piano. Order piano parts and tools. instruments.
STORE HOURS
9 TO 6 CDT
GMT minus 5 hours
Monday thru Friday
(800) 338-8863
1 (906) 864-1437

CENTER PINS
For all flanges and action hinge points
ORDERING INFORMATION:
MINIMUM ORDER:
Minimum Order $20
SHIPPING POLICY:
Priority Mail shipping for most items. UPS by request.
You MUST browse the Catalog area, and try to learn what you want. We no longer search our catalog for you.
Have this information ready:
1. Description of parts
2. Part Numbers
3. Prices
4. Dimensions where needed
BEFORE you call us please.
Make sure you are in the catalog area for your kind of piano--
Such as Grand Pianos,
Full Uprights, Spinets, etc.
If you are confused, call us for assistance.
If we do not answer the phone, we are probably here-- Just leave a message- we will return your call (it may not be the same day).
:-)


This section offers you all the sizes of pins you need to repair actions. The pins are longer than needed and pointed on the end. This allows you to push them through a tight or new felt bushing in a flange without damaging the bushing. After you push the pin through, cut the point off with diagonal clippers.
No way around the following: You have to either mic the old pins you have, or send me a sample. You will see below that center pins come in many sizes. I have to have the mic readings in thousands of an inch. Save us all some trouble, and mic them, OR call up your mechanic friend and ask him to mic your pins.
Be sure to read the section on INSTALLING CENTER PINS and
replacement of felt bushings in flanges.
SEARCH THE WHOLE SITE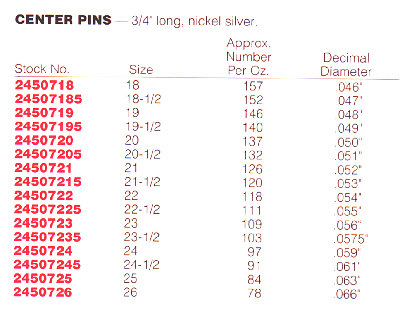 Ignore the numbers in red. Order by "Size".
Center Pins-- 3/4" long-- Nickel plated
Mic your old pin, find the thousandths of
inch size on the right column, then give
us the correct stock number or "size" number.
Note the number you get per ounce.
Two ounces of pins $ 30.85
CENTER PIN WORK SUPPLIES
CENTER PIN REPAIR TOOLS AND OTHER HAND TOOLS FOR THIS WORK

SEE REGULATING TOOLS for Repair and Restoration
Online help available






ORDER BY PHONE WITH CREDIT CARD
Call Toll Free at: 1 (800) 338-8863
OR:
Go to Mail Order Form for printing:
Online help available