STORE HOURS
9 TO 6 CDT
GMT minus 5 hours
Monday thru Friday
Do not call on
Sat. Sun. please

PIANO BENCH HARDWARE
ORDERING INFORMATION:
MINIMUM ORDER:
Minimum Order $20
SHIPPING POLICY:
Priority Mail shipping for most items. UPS by request.
You MUST browse the Catalog area, and try to learn what you want. We no longer search our catalog for you.
Have this information ready:
1. Description of parts
2. Part Numbers
3. Prices
4. Dimensions where needed
BEFORE you call us please.
Make sure you are in the catalog area for your kind of piano--
Such as Grand Pianos,
Full Uprights, Spinets, etc.
If you are confused, call us for assistance.
If we do not answer the phone, we are probably here-- Just leave a message- we will return your call (it may not be the same day).
:-)
SEARCH THE WHOLE SITE
UPRIGHT PIANO HARDWARE--
Hinges and action mounting hardware for upright pianos
are found under other links listed here.
SMALL CABINET PARTS-- RUBBER, BRASS, WOOD, AND METAL
CLICK HERE to go to Grand and Upright Piano Desks.
CLICK HERE to go to Grand Piano pedal hardware.
PEDAL HARDWARE-- Including springs for pedal trap mechanisms
---
Learn how to repair your bench from my online Repair Section.
Part Description Part Number Price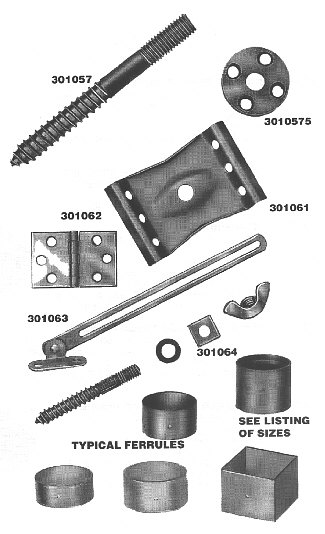 Steel Bench Corner Brackets
3-1/8" by 2-1/2" Old Part Number 301061
SH577 $ 3.25 each

Lid Support-- Steel-- Brass Plated-- Locks open
Old Part Number 301063A SH576 $ 4.00
Lid Support-- Steel-- Brass Plated-- Anchor included
This support has a curved follower which allows
more shallow mounting. The anchor includes and
adjustable friction nylon brake feature. This brake
holds the lid open while you remove books from
the bench and saves your fingers. L-brnR1086 $ 8.00

Piano Bench Hinges-- Steel-- Brass plated-- Pair
Length along pin Width open
1 1/4 inch 1 1/8 inch Old Part Number 301062A SH575 $ 3.25
1 1/4 inch 1 3/4 inch Old Part Number 301062A SH575A $ 3.25
Hanger Bolts-- Includes lock washer and nut of your choice--
Use these with corner plate 301061
Square nut assembly
5/16 inch by 2 inch Old Part Number 301064A SH1081A $ 4.00
5/16 inch by 2 1/2 inch Old Part Number 301064B SH1081B $ 4.15
Leg Ferrules-- Brass-- Satin finished and lacquered-- Use on Piano and bench legs.
Inside Diameter- 1-1/8" -- Hieght- 1-1/8 " SH677 $ 5.85 each
We no longer carry round ferrules
Bench Glides
Plastic Nail Glide-- Tap into bottom end of bench leg to prevent damage to floor.
5/8 inch diameter Old Part Number 3016655A SH1085A $ 1.50 each
3/4 inch diameter Old Part Number 3016655B SH1085B $ 1.50 each
Round Top Stool Replacement Hardware
This mechanism includes the two square plates, with four holes, which attach to the
top of the stool and the base of the stool, with one plate attached to a screw.
The whole mechanism must be purchased since the screw is not the same as
original hardware. The screw is larger in diameter, and the hole in the top of the
base of the stool may need to be slightly enlarged.
THIS IS NOT AN ORIGINAL ANCIENT PART--
IT IS A MODERN REPLACEMENT.
If antique value is the issue, you will find NO ONE? in the world who carries the
frail smaller original parts. They break too easily. This is a case when newer is better. SH5000 $ 115.00





ORDER BY PHONE WITH CREDIT CARD
CALL TOLL FREE: (800) 338-8863
If there is no answer, please leave a message- we do answer our voicemail

OR:
Go to Mail Order Form for printing: