3

STORE HOURS
9 TO 6 CDT
GMT minus 5 hours
Monday thru Friday
Do not call on
Sat. Sun. please

UPRIGHT PIANO PEDALS (This Page)
For Grand Piano pedals, CLICK HERE

ORDERING INFORMATION:
MINIMUM ORDER:
Minimum Order $20
SHIPPING POLICY:
Priority Mail shipping for most items. UPS by request.
You MUST browse the Catalog area, and try to learn what you want. We no longer search our catalog for you.
Have this information ready:
1. Description of parts
2. Part Numbers
3. Prices
4. Dimensions where needed
BEFORE you call us please.
Make sure you are in the catalog area for your kind of piano--
Such as Grand Pianos,
Full Uprights, Spinets, etc.
If you are confused, call us for assistance.
If we do not answer the phone, we are probably here-- Just leave a message- we will return your call (it may not be the same day).
:-)


Check the graphic and chart carefully to be sure you get an exact
replacement of your old pedals. If in doubt, send me one old pedal
so I can match them for you.
For pedal Hardware CLICK HERE
SEARCH THE WHOLE SITE


UPRIGHT PIANO PEDALS
Pedals are sold only in full sets of three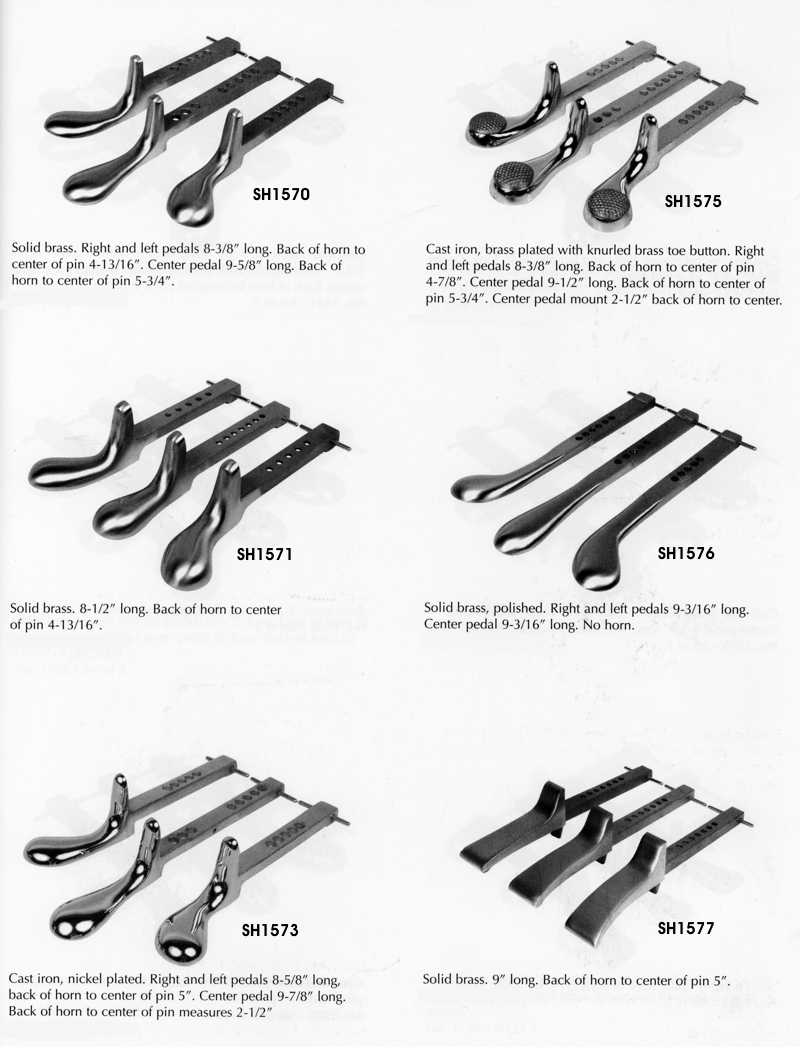 SH1570
$ 109.00
SH1571
$ 92.00
SH1573
No longer available
SH1575
$110.00
SH1576
$ 101.00
SH1577
$120.00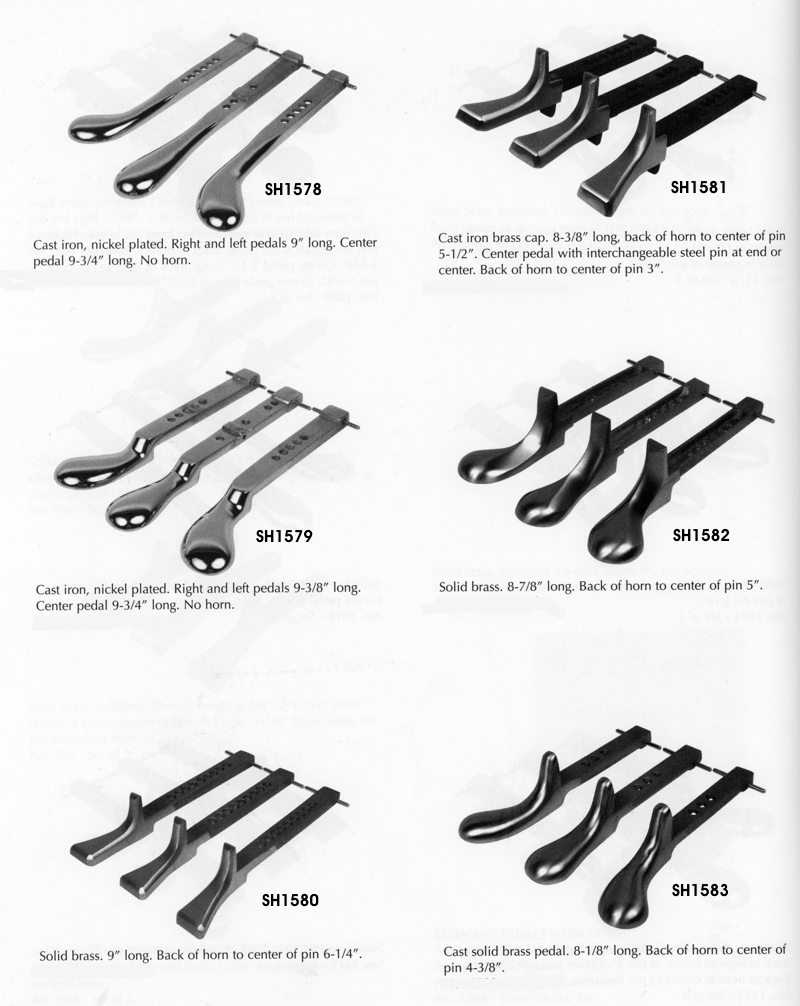 SH1578
$ 99.00
SH1579
$ 115.00
SH1580
No longer available
SH1581
$119.00
SH1582
$ 109.00
SH1583
$ 109.00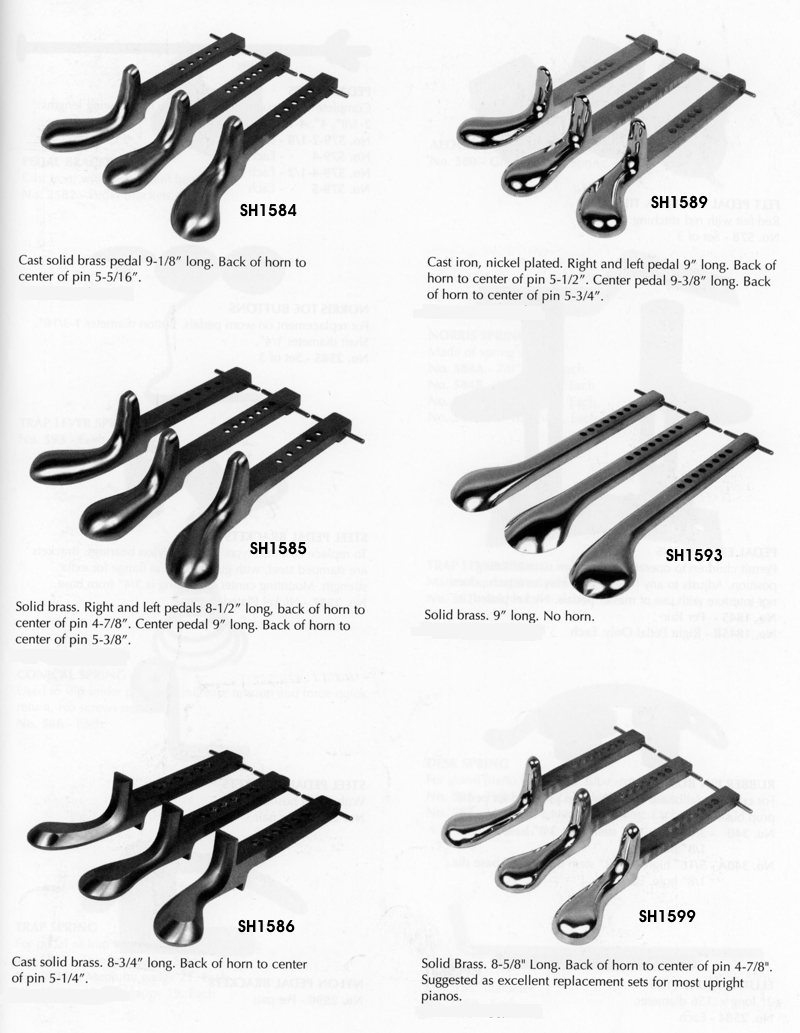 SH1584
$ 99.00
SH1585
$ 95.00
SH1586
$ 109.00
SH1589
$ 104.00
SH1593
$ 59.00
SH1599
No longer available
Go to Player Piano Parts Page for player piano pedals.
PIANO PEDAL Accessories
Pedal Trim Felt
Felt Pedal Covers- Prevent scuffing by shoes- SH578 $ 6.45 set

Pedal hinge pins- 2¼ inches long by .157 inch diameter- Fit all pianos- SH2584 $ 3.50 ea.

Pedal Extenders-
These consist of a set of two extensions which attach to the existing pedals
on your piano. They make it possible for a child, or a very
short person, to use the pedals. They can be adjusted to
fit the needs of the child as they grow up. Other musicians
may also use the normal pedals without removing
the extenders.
Pair of two extenders for sustain
and quiet pedals (or sostonuto) SH1845 $ 82.00
One pedal for sustain only SH1845R $ 45.00



Carpet and floor saver-
Place under the pedals to prevent carpet damage- beige or black SH5801 $ 26.25


ORDER BY PHONE WITH CREDIT CARD
CALL TOLL FREE: (800) 338-8863
If there is no answer, please leave a message- we do answer our voicemail

OR:
Go to Mail Order Form for printing:
SEARCH THE WHOLE SITE
Online help available