GRAND PIANO LEGS
Grand legs- Spade leg- Most common-
Grands over 6 feet long- 22-1/4 inches high by 18 inch top piece SH841 $ 158.00 each
Grands under 6 feet long- 21-3/8 inches high by 16 inch top piece SH842 $ 125.00 each

Grand legs- Straight tapered-
21-3/8 inches high by 16 inch top piece- Ferrule suggested SH843 $ 121.00 each

Grand lyre-
Straight style- SH845 $ 258.00 each
Traditional "Period" literal lyre shape- Call for availability SH846 Not available at this time
Read our instruction on repairing your grand lyre.

Find Grand Piano round mounting plates here

Square Grand Legs and Desks available below
LYRES
We hear over and over of movers losing the whole lyre assembly with the
mounting brass hardware. The lyres and kit below are matched and complete.
You may have to do some fitting tricks to make the lyre work. But, this is
the only complete outfit we can find anywhere.

Graphics are seen up this page.

Straight line Spade Foot Style Lyre
Hard maple or birch-- 23 inches high, top bar is 12 inches by 2-3/8 inches
A cabinet maker may be able to remove the top bar and shorten the overall
height of the lyre if a shorter lyre is needed.
Bottom box is 8-1/2 inches wide-- 3-1/8 inches deep.
No metal parts included SH845 $ 258.00


Louis XV Style Lyre- For French Provincial also and Square Grands
Lyre can be disassembled by removing lag bolts
so that overall height can be altered.
Hard maple or birch-- 23 inches high, top bar is 12 inches by 4-7/8 inches
Bottom box is 10 inches wide-- 4 inches deep.
No metal parts included. Call for availability SH846 Not available at this time

Solid Brass Lyre Hardware Kit for a used or new lyre
This is needed especially where movers lost the whole lyre.
This kit is designed to go with SH845 and SH846 above-- NO SUBSTITUTES
The lyre is NOT included in this kit. You may pick one of the two lyres above.
Consists of:
1 set of part number SH998 pedals
1 Pair of SH770C Lyre Braces
1 Set of SH773 Pedal Rods
3 Pairs of Pedal Mounting Brackets (to be mounted in the lower box)
Kit Part Number- SH849 $ 241.00

If your grand has only two pedals, use these lyres, but leave one pedal only as decoration.
GRAND PIANO LYRE BRACES AND PEDAL RODS
POLICY-- CAUTION: We have had so many rods returned that we are using a harsher policy
on returns. We now charge a 50% restocking fee on these rods. If the rods turn out
to be too long, try to shorten them and make them fit. You must measure very carefully before ordering.

Lyre Braces- Brass plated steel- Grand- See nos 30558A and B in graphic above
You may have to reset the mounting points.
Perfect fit using old holes is RARE
If you must return them, the 50% restocking fee applies.

21 inches long- Pair- SH971 $ 25.50

Lyre Braces- SOLID BRASS- Grand- See nos 30558A and B in graphic above
You may have to reset the mounting points.
Perfect fit using old holes is RARE
23 inches long- Pair- SH771 $ 63.00
21 inches long- Pair- SH770C $ 56.50
14 inches long- Pair- SH770B $ 49.75
12-13/16 inches long- Pair- SH770A $ 33.25


Pedal rods- Grand-
Sold Brass with adjustable brass collar and set screw- 21½" long-
Like 301900 in graphic -- Set of 3- SH972 $ 96.25
19-3/4"- 5/16" diameter- Set of 3- Adjuster nut and tip SH773 $ 94.25
Adjustable from 20 5/8" to 21 3/8" PT81AB $85.00


STEINWAY Lyre Braces SH859 $ 72.50 a pair
GRAND AND UPRIGHT DESKS AND LID PROPS
GRAPHIC TO SEE THE RODS AND BRACES
OLD TIME LEGS, LYRE, DESK, AND BENCH
There is no way around it. These are well made products, but they are very expensive. This is because there
are so few ordered due to the few number of old pianos being restored. We are talking here about going
clear back to the Victorian Era in style.
CAUTION:
ALL products below are unfinished.

Returned products in this section are subject to a 30% restocking fee. Our supplier will determine if
the product was defective before being shipped, and their verdict is final. Anyone who damages the
product and tries to get a refund will NOT receive ANY refund. Returns MUST be arranged by us, not
our supplier.

Prepayment is required. No credit card purchases accepted on the Old Time products.

These prices may not be final. We will check with our supplier to see if a price increase has been added.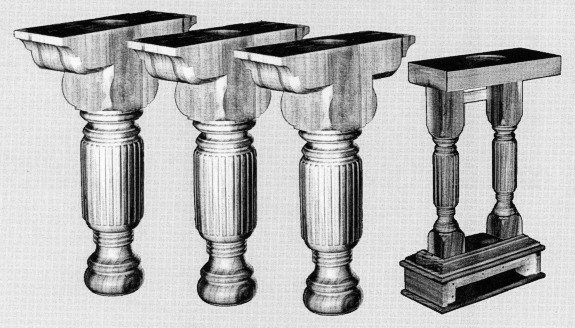 LEGS AND LYRE MATCHING
If you have a square grand needing four legs and a lyre,
SEND MAIL for a quote on adding one leg to the set.

Unfinished set of three legs and the lyre are made of poplar. Legs and lyre are routed to receive your existing mounting hardware. If your piano does not use the round cast iron mounting disks, we can supply them to be paid for separately.

Take very careful measurements of your piano and do the math with the following dimensions. If, after you receive the products, something is wrong, the restocking fee WILL be charged.
Find Grand Piano round mounting plates here
Leg measurements:
Height- 22-3/4 inches
Width- 5-1/2 inches
Length of top piece- 15-1/4 inches

Lyre measurements
Height- 20-1/2 inches
Base Depth- 5-1/2 inches
Base Length- 12 inches

PRICE:

Full set - $ 2950
Three legs - $ 2000
Lyre only - $ 1050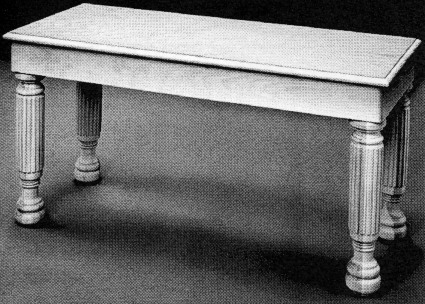 COMPLETE PIANO BENCH
MATCHING THE LEGS ABOVE
Quality unfinished solid birch is used. Music storage area is under hinged lid. Hardware included.
Height- 18-1/2 inches - Width- 15-1/2 inches - Length- 36 inches
PRICE: $ 855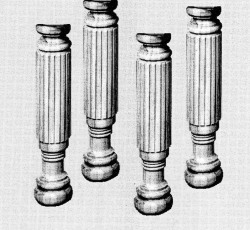 PIANO ARTIST BENCH LEGS
MATCHING THE PIANO LEGS ABOVE
These legs are ONLY made to fit on artists benches.
You will need to do any retrofitting needed.
Height- 15-1/2 inches

PRICE: $ 345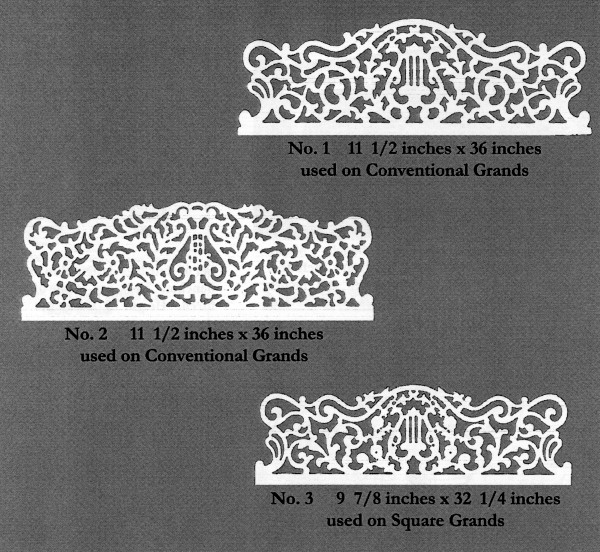 OLD TIME DESKS
These are very ornate, and much time goes into making them. Thus, the price is very high. As far as we know, this is the only Square Grand desk anywhere.
The desks are made of seven ply birch and faced on both sides with maple, mahogany, or rosewood.
Special sizes not possible. You may need to relocate the hinge points to fit the desk if you wish to use one of these.
PRICE: All three styles same price
Maple-- $ 530
Mahogany-- $ 565
Rosewood-- $ 755
RETURN POLICY ON WOOD AND FURNITURE PARTS
When you receive wood parts which must be stained and finished,
EXAMINE IT BEFORE YOU PROCEED.
If there is any flaw which you cannot deal with, it must be returned.
If you alter the product, or if you stain it, we cannot return your payment.
Our supplier will not take back a product which has been altered of worked on.
Also, you must call us at (800) 338-8863 for instructions to return the product.
If you return it to us, we will deduct your shipping costs to return it to our supplier.
It must be returned to our supplier.
If you send it back without notifying us and following instructions, you may not
receive a refund if our suppler does not know you are our customer.


ORDER BY PHONE WITH CREDIT CARD
CALL TOLL FREE: (800) 338-8863
If there is no answer, please leave a message- we do answer our voicemail

OR:
Go to Mail Order Form for printing:

Online help available