FEATURED BOOKS TO LEARN PIANO TUNING
These are the best starting point for
both beginners or the most zealous professionals.


THE THREE MOST USEFUL BOOKS
IN THE PIANO PROFESSION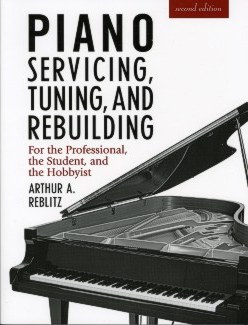 PIANO SERVICING, TUNING, AND REPAIRING
Third Edition
By ARTHUR A. REBLITZ
The first edition of this world famous book has sold over 45,000 copies and has become the classic manual for piano technicians and amateurs internationally. Originally published in 1976, Piano Servicing has now been updated and expanded, incorporating the experience of another decade and a half of exacting service and restoration by the author. Bibliography and index included, 8 1/2" x 11", and hundreds of illustrations. Close to 300 pages of the
best information available for the professional tuner / technician. College textbook quality, but at trade prices.

NBN-1-- Paperback $ 40.00
(Note: we have a few copies of 2nd edition for $16 while supplies last)
SH1678 Plus-- Arthur Reblitz' paperback book above....
PLUS Kurk Combo (See below)
PLUS Steve Van Nattan's CD of Professional Level Tuning Instruction,
which is ONLY found on the CD
The CD includes all offerings online and in print.

Price: $ 85.00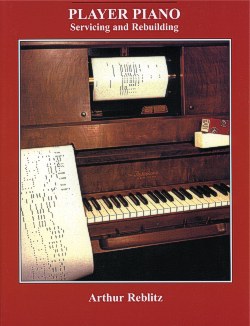 SH1640-- PLAYER PIANO SERVICING
AND REBUILDING
By ARTHUR REBLITZ
A superb book that touches on every aspect of its title. 8-1/2" x 1 1", 216 pages, profusely illustrated with fine photographs and diagrams. The most comp-rehensive book on the subject ever written. Those with casual or professional interest in player pianos will find this book fascinating and indispensable. The non-player aspects of a piano are not covered in this book. For that, you need the book above.
NBN-2-- Paperback $ 30.00
THE WONDERS OF THE PIANO
By CATHERINE C. BIELEFELDT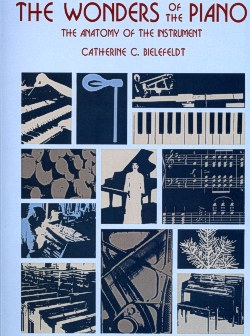 This is the best book I have seen on the piano as an instrument, how it is manufactured, and the history of the piano. Catherine Beilefeldt is deeply involved in a piano restoration company south of Chicago, and the Piano Technician's Guild maintains very close contact with her. This book is used by Guild members as a text book in training curricula. Catherine held three positions with Steinway in her earlier days, and Steinway made a great resource contribution to this book.
I have been disturbed, ever since I started my business on the Internet, that I did not have foundation information about the piano and its heritage on the site. Here is is, and every piano teacher, musician, music teacher, concert master, piano store owner, and every aspiring piano technician should have this book. I have learned much while reading this book. In fact, I believe any musician will find this book a great coffee table book by which to amuse his guests who are into serious music.
This book does not cover the technical issues of tuning, regulating, and restoring pianos, but it will give you the foundation on which to build your technical and tuning skills.
Chapters in the book:
1. Presenting the Piano
2. Out of the Past-- Into the Present
3. Five Structural Areas of the Modern Piano
4. The Modern Grand Piano
5. The Modern Vertical (upright) Piano
6. Piano Cabinet Construction and Cabinet Finishes
7. Basic Information on Wood
8. What's Inside the Cabinet-- Framework, Pinblock, and Cast iron Plate (harp)
9. The Soundboard, Ribs, and Bridges
10. Strings and Stringing Technique
11. Tuning Pins
12. The Keyboard
13. Piano Hammers-- Making the Felt and the Hammers
14. Ready for Action-- Four Types of Vertical Actions, Grand Actions, and Action parts
15. Pedals-- Grand and Vertical Pianos
16. Piano Hardware
17. Piano Maintenance
18. Transformation of the Piano e Forte- Part One
A Renaissance Piano- Part Two
19. Evaluating the Quality of a Piano
There is an eleven page index.
Size-- 9 inches by 12 inches-- 140 pages
Paperback only-- 2004 edition
Many illustration.
Best of all, Catherine wrote for the non-technical person or the novice,
while the tradesman will find the book challenging and instructive.
This book cannot be mounted in a three ring binder because it is to large.
Part Number-- CB-01 PRICE-- $ 35.00
_______________________________________________________
ALL OF THE ABOVE
SH1678 Arthur Reblitz' book on Piano Servicing and Repair
PLUS SH1640 Arthur Reblitz' book on Player Piano Repair
PLUS Catherine Bielefeldt's THE WONDERS OF THE PIANO
PLUS Kurk Combo (See below)
PLUS Steve Van Nattan's CD of Professional Level Tuning Instruction,
which is ONLY found on the CD
The CD includes all offerings online and in print.

Part Number: "All of the above book offer" PRICE: $ 155.00

____________________________________________


KURK COMBO
PIANO TUNING BOOK AND CD FOR BEGINNERS --
By Dennis E. Kurk PTG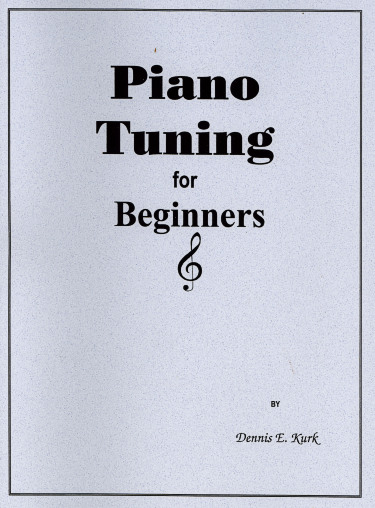 Dennis Kurk has many years of experience tuning pianos and restoring them.
He is a member of the Piano Technician's Guild of America also. His book,
Piano Tuning for Beginners, is 18 pages long, 8-1/2 by 11 inches. There are
several photographs.
Topics covered are:

Why Pianos Go Out of Tune
Preparing to Tune
Tuning a Unison
Tuning an Octave
Tuning the Notes Within an Octave
Designating Intervals Within the Octave
Setting the Temperament
Varieties of Tuning Methods
Problems of Piano Pitch
False Beats
Fine Tuning
Tuning Tips
The Unseen Artist
We are not offering the book without the CD. This is because the CD is so essential to succeed
in learning to tune. Books on tuning lack one very important thing, and that is sound. This
CD by Dennis Kurk is copyrighted and is done by him to add the missing dimension, beats and
sounds as they actually occur during a tuning. The tape is keyed verbally to the book very well,
and the sound quality is exceptional. This combo teaching tool will also add greatly to the
tuning lessons on my CD (see above).
Price:
Part Number-- kurkcombo/cd $ 39.00
This combo includes an audio CD of the beats and sounds of tuning instead of a cassette tape.
____________________________________________
PIANO TUNING, REPAIR, REGULATION,
AND RESTORATION BOOKS
BOOK SEARCH--
Some of these books are available only by searching trade sources, and the source
changes every time we look for one. So, you will see "INQUIRE" after some books.
If you are really in NEED of such a book, SEND MAIL, and Steve will look for it.
FEE: There will be a $ 10 fee for the search. If we find the book, the fee will be
credited to you against the cost of the book. If we do not find the book, you will
forfeit the fee. The minimum cost of a book searched for is $10.
We do NOT work for nothing. Thanks for understanding.
WARNING: Most of these rare books are very expensive new or used.

SH1750 - PIANOS INSIDE OUT
By Mario Igrec
Newly published 2013! An in-depth look at the history, design, and maintenance
of the piano. Provides practical, step-by-step guidance to anyone who wants to
learn how to tune, repair, regulate, voice, rebuild, or improve the action
performance of pianos. $ 80.00
SH1613-- PIANO TUNER'S POCKET COMPANION -- 132 pages $ 9.65
By OLIVER C. FAUST
A complete history and description of grand and upright piano actions, together with
a list of common faults and how to correct them. The second section of the book
explains the theory of tuning with notes on harmony, acoustics and temperament. This is more of an "antique" book for historical interest than an up-to-date reference to current piano technology.


SH1614-- A GUIDE TO RESTRINGING -- Paper back only $ 29.50
By JOHN W. TRAVIS
This 288 page book written by the former president of NAPT contains over 350
separate stringing scales, and a wealth of information on stringing procedure.
Interestingly and simply presented by an expert craftsman. If you have reason to
believe the scale on a piano was changed, youneed this book to learn the original scale.

SH1612-- PROFESSIONAL PIANO TUNING $ 25.75
By W. DEAN HOWELL
The author is a Craftsman member of the Piano Technicians Guild, and a past
president of the Connecticut Chapter, with more than forty years of tuning experience.
Here is a fresh and authoritative text in ten chapters. A few interesting items covered include:
HOW TO-- cope with harmonic problems in the little piano--use a tuning
touch tester-tune new strings-- raise pitch to A-440-- Lower pitch to A-440--
Finish tune any piano to sound its best-- tune two or more pianos together.
Published by American Piano Supply Co. -- 127 pages


SH1679 -- PIANO TUNING $ 17.50
By J. CREE FISCHER
Paperback 5-1/4" x 8", 201 pages 17 lessons starting with notes on the
general construction of the piano, regulating and repairing, setting the
temperament, the study and practice of piano tuning, and also tuning
and repairing reed organs. Finally a lesson on Professional Hints.


SH1605 -- HOW TO BUY A GOOD USED PIANO $ 17.10
By WILLARD M. LEVERETT
A 70 page paperback that lets the buyer be aware of the pros and cons in
the used piano market. Well illustrated, this concise text could
alert the piano buyer to potential disappointment.
DVD VERSION Part Number- SH1694-or DVD $ 35.95


SH1677-- THE PIANO-- ITS ACOUSTICS $ 37.95
By W.V. McFERRIN
The author, formerly associate professor of physics at
The College of Emporia, Emporia, Kansas, and Craftsman Member of
the Piano Technician's Guild wrote this book with the hope that it would
be helpful to piano technicians, piano teachers and their students.
It is a book on the nature of sound, and the physical aspects of countless
factors that affect the sound and tone quality of pianos. Serious piano
technicians will want to read and own this excellent reference book.
194 pages, hardback, 5-3/4" x 8-3/4".


SH1687 -- THE PIANO BOOK
By LARRY FINE
A guide to buying a new or used piano. 244 pages, 8-1/2' x 11" , 4th edition.
The author is a Registered Craftsman member of the Piano Technicians Guild.
An excellent investment for the potential piano buyer, but also brimming with
general information helpful to anyone involved in sales or service of pianos.
Paperback $ 29.95

SH1606-- PIERCE PIANO ATLAS (11TH EDITION) $ 49.95
The "Bible of the Piano Business." Includes nearly 12,000 names providing
ready reference to serial numbers, dates of manufacture, factory locations and
other pertinent information. This is my personal favorite for this data.
This is the most complete piano identifying source on earth.


SH1671-- THE PIANO ACTION HANDBOOK $ 25.95
Packed with regulation specifications for most pianos currently made, and
many that are no longer in production. Editor Randy Potter has included
regulation procedures and checklists for verticals and grands. Also included
are names and addresses of current manufacturers.
Published by The Piano Technicians Guild.


SH1631-- THE PIANO $ 7.80
A PIANO TECHNICIAN'S GUIDE FOR THE PIANO OWNER
By PHILLIP GURLIK
34 page pamphlet aimed at assisting the piano owner in under standing the
instrument and why it needs the attention that it does. By making this
book available to clients, piano technicians and dealers will find many
time consuming questions will be answered clearly and authoritatively.


SCHOOL OF PIANO TECHNOLOGY DVD
By RANDY POTTER
SH1730A -- Introduction to Piano Service (2 hours) $ 55.00
SH1730B -- Basic and Intermediate Tuning Techniques (2 hours) $ 90.00
SH1730C -- Basic and Intermediate Repairing Technique (2-1/2 Hours) $ 90.00
SH1730D -- Basic and Intermediate Repairing Techniques (2 hours) $ 90.00
SH1730F - Polyester Repair $ 55.00

SH1603-- PIANO TUNING AND ALLIED ARTS
USED COPIES AVAILABLE
1 Used copy- 5th Edition- Slightly scuffed- A few reader notes- Binding sound $ 35.00
1 Used copy- 5th Edition- Near perfect condition- No markings or page wear $ 45.00
By DR WILLAM BRAD WHITE, Mus.D.
For many years the accepted textbook in many schools and libraries .
This famous work by America's prominent author, teacher, and technician is one every tuner,
however skilled, should read and reread to learn more fully the details of the craft.
One of the most comprehensive and valuable books the technician can own.
Published by American Piano Supply Co.


SH1717-- ON THE SENSATIONS OF TONE $ 32.95
By HERMANN HELMHOLTZ
One of the world's greatest scientific classics. Nearly a century after its
first publication it is still a standard text for the study of physiological
acoustics-- the scientific basis of musical theory. It is also a treasury
of knowledge for musicians and students of music. Difficult scientific
concepts are explained simply and easily for the general reader.
576 pages, profusely illustrated, 6-1/8' x 9-1/4", paperback.


SH1714-- THE PIANO KEY AND WHIPPEN $15.00
An analysis of their relationships in direct blow actions.
This is the English version by Jim Englehardt.
Paper copy 72 pages, 39 illustrations.
Highly technical.


SH1716-- GRAND VOICING $ 12.00
By FRANZ RUDOLF DIETZ
A discussion on how to needle, file, and voice a new set of hammers.
16 instructive photographs.

PLAYER PIANOS AND REED ORGANS
BOOK SEARCH--
Some of these books are available only by searching trade sources, and the source
changes every time we look for one. So, you will see "INQUIRE" after some books.
If you are really in NEED of such a book, SEND MAIL, and Steve will look for it.
FEE: There will be a $ 10 fee for the search. If we find the book, the fee will be
credited to you against the cost of the book. If we do not find the book, you will
forfeit the fee. The minimum cost of a book searched for is $10.
We do NOT work for nothing. Thanks for understanding.
WARNING: Most of these rare books are very expensive new or used.

SH1601-- PLAYER PIANO MECHANISMS $ 41.95
By DR. WILLIAM BRAID WHITE Mus. D
An authoritative text on the player piano action. There are sections on Ampico Duo-Art
Welte and others invaluable if you do player work.
Published by American Piano Supply Co.


SH1625 -- AUTOPIANO PLAYER PIANO POINTERS $ 9.00
An informative booklet on regulation action removal, timing the motor,
detecting leaks, etc 31 pages, Illustrated


SH1609-- DUO-ART SERVICE MANUAL $ 12.00
A reprint of the 48 page 1927 manual on servicing the Duo-Art reproducing mechanism.
Contains illustrations and tuning scheme diagrams.


SH1626-- WELTE-MIGNON ACTION $ 6.95
A reprint of the 48 page bock of instructions on How to Test and Regulate
the Auto-Deluxe Welte Mignon Reproducing Piano

SH1708 -- AMPICO 1919 MANUAL WITH 1920 SUPPLEMENT $ 12.50
This rare book goes into detail about the operating principles of the
Ampico action. Includes many illustrations and diagrams.

SH1608 -- AMPICO MANUAL AS ABOVE-- 1929 ERA -- 56 pages $ 9.00
Includes tuning schems

SH1624 -- AMPICO 1923 INSPECTORS REFERENCE BOOK $ 9.75
Contains illustrations and information necessary to gain a thorough understanding of the
working principles of the Ampico. All explanations are based on the upright Ampico,
but apply equally as well to the grand.
SH1665-- AEOLIAN PLAYER PIANO SERVICE MANUAL $ 16.00
A service manual for the 64-Note and 88-Note Standard Pneumatic Player Actions.
Each section of the Standard Pneumatic Action is treated separately, and in non-technical
language. This 8-1/2" x 11", looseleaf 56 page reproductiion of a publication prepared by the
Aeolian Corporation will assist the technician and the owner in proper care and adjustment of
Player Pianos equipped with the Standard Pneumatic Action. Illustrated with many photographs
and drawings.


SH1709 -- AMPICO MODEL A TUBING CHART $ 11.00
Blueprint of the tubing for the model "A" Ampico grand, which is equally
useful for uprights. Made from an original factory print. Although the clarity
of this reproduction is not as good as desired, it is the best available,
and will be helpful in servicing these old instruments. The name "Amphion"
appears on the prints, and this is the name of the firm that made the original Ampico.

SH1710-- DUO-ART TUBING PRINT $ 5.00
This print was made from a grand piano, but it also applies to upright
models of the Duo-Art


SH1711 -- WELTE-MIGNON (Licensee) TUBING CHARTS $ 11.00
Expression devices and tubing charts separately illustrated for both
upright and grand Welte-Mignon (Licensee) Models.


SH1666-- SIMPLEX PLAYER ACTION MANUAL $ 19.25
40 page book. A fine reprint of the service manual of the Simplex player mechanism
which was used in so many home players in the 20s. Many drawings and photographs.

SH1662-- PRINCIPLES OF PLAYER ACTION OPERATION $ 9.90
An excellent booklet on the principles and servicing of the pump type player.
Written for the Standard Pneumatic Action, but the book is useful for all makes

SH1712-- SCHULZ PLAYER ACTION MANUAL $ 9.95
A reprint of this 1922 manual published by M. Schulz Co. The Schulz action is commonly found,
and can be troublesome to service because of its odd valve action.

SH1621-- THE AMPHION ACCESSIBLE PLAYER ACTION $ 9.85
The Amphion is considered by many to be one of the finest player actions ever built.
The Amphion Piano-Player Co. also built the Model "A" Ampico mechanisms as well.
Owners of the Model "A" upright Ampicos will find the manual very helpful.


SH1664-- QUESTIONS AND ANSWERS $ 8.95
A reprint of more than 300 questions and answers from the old Standard Pneumatic
monthly service magazine. This 8-1/2" x 11" pamphlet will surely assist
player servicemen-- especially those new to the trade.

SH1706-- MODERN ORGAN TUNING $ 9.50
By HERMAN SMITH
An engaging How and Why" discussion of the development of the pipe organ,
and the nature of the organ. Tuning procedure and scientific principles of organs are
discussed in an interesting manner. 120 pages.
SH1673-- THE REED ORGAN: ITS DESIGN AND CONSTRUCTION
By H. F. Milne
This 168 page soft-bound book details a vast amount of information of how reed
organs are constructed. It is a practical guide for craftsmen with instructions for
making new reed organs and chapters included on tuning and voicing. This book
book is out of print, but if you email or call we can send you a link to a site where
you can read it online for free.


DA/B-85-- RESTORING AND COLLECTING ANTIQUE REED ORGANS
By HORTON PRESLEY
A 310 page paperback that is a step-by-step guide to finding, repairing,
tuning, and restoring these priceless antiques. The most authoritative,
and easy to understand, book on the subject that is in print today. This
book is currently out of print, but we have a limited number of copies availabl. $45.00