STORE HOURS
9 TO 6 CDT
GMT minus 5 hours
Monday thru Friday
Do not call on
Sat. Sun. please

PIANO MOVING TRUCKS
AND SUPPLIES

ORDERING INFORMATION:
MINIMUM ORDER:
Minimum Order $20
SHIPPING POLICY:
Priority Mail shipping for most items. UPS by request.
You MUST browse the Catalog area, and try to learn what you want. We no longer search our catalog for you.
Have this information ready:
1. Description of parts
2. Part Numbers
3. Prices
4. Dimensions where needed
BEFORE you call us please.
Make sure you are in the catalog area for your kind of piano--
Such as Grand Pianos,
Full Uprights, Spinets, etc.
If you are confused, call us for assistance.
If we do not answer the phone, we are probably here-- Just leave a message- we will return your call (it may not be the same day).
:-)
It may be cute to see the piano go rumbling down the steps when
Abbot and Costello try to move the piano up the hill, but in real life
it ain't too cool Harry. Also, a piano only slightly out of control can
ruin your foot for a long time. If you have a habit of moving a piano
around the country, or around the concert hall, one of these trucks
would be very much in order.
One insurance claim from an injury or falling piano will more than
equal the cost of one of these trucks.
SEARCH THE WHOLE SITE
Shipping Policy:
We get your ZIP code, and we find the actual
shipping cost for United Parcel Ground, and that is all we charge.




Quantity:
If you are buying more than one item on this page,
or a cover or bench with something here,
we will talk about a discount.
IF YOU DO NOT SEE WHAT YOU WANT HERE, TRY THESE PAGES

MOVING, HANDLING, AND SAFETY EQUIPMENT
Moving pads, shrink wrap, piano skid, E-straps, door jamb
protectors, skates, arm power moving straps

If you came here looking for permanently attachable
Trolleys, Grand Transporters, or Grand Spider Trolleys,
CLICK HERE to see our selection.
MOVING TRUCKS AND HARDWARE
A moving dolly or truck can make the difference between disaster and a peaceful journey. It is not out of the
question for a non-professional to purchase a moving truck. Compare the cost of a truck with the cost of hiring
professionals. If the move is not complicated, this may save you a lot of cash. Also, moving companies often do
not have the best equipment, and if they do, it may be unsafe and worn out.
Consider the continuing usefulness of one of these trolleys. They are very useful for moving new large appliances
and heavy side drawer file cabinets, among many other uses. Hang one in the garage, and you will also be able
to rescue friends and neighbors who are moving large objects. Just be sure to put your name on it :-)
Part Description: Part Number Price


Moving Dollies All USA made
The Piano Man's Dolly 4 inch
Hardwood bolted construction
Molded rubber capped ends to
prevent piano slipping while moving.
4 inch non-marking casters
with hard rubber wheels
and ball bearings. Weighs 23 lbs.
Capacity- 1000 lbs.
Dolly is 30" by 18"-- SA3284 $ 75.00
Replacement Rubber caps
for above two dollies- each SARRC $ 12.00 ea.
Flush Platform Dolly
Hard Rock smooth Maple
and flush bolted construction.
4 inch hard rubber ball bearing
swivel casters. All exposed top
surfaces of dolly covered with
non-slip rubber tread-
glued and stapled (not shown)
Countersunk carriage bolted.
Capacity 1000 lbs. 32" by 18"
Weighs 22 lbs.
(SA3384 in graphic but with
rubber tread added) SA3384 $ 85.00
Regular Platform Dolly
Bolted construction with
rubber ends. 3 1/2 inch hard
rubber non-marking swivel wheels.
Bullnosed edges- countersunk bolts
Capacity 900 lbs. 32" by 18"
Weighs 16 lbs. SA3084 $ 80.00

All Terrain Moving Dolly
(Not pictured) 6 8" tires with 2 rideged on a 1" lowered center so
dolly can make 360 degree turns. 3 rubber caps to protect loads.
Snap Loc tracks on sides. Swivel locks on one end. 42"L x 18" W x 14" H
1800 lb load capacity. Wt. 65 lbs. Made in USA. SA-ATD $375.00
Piano Skid Boards- The right thing for moving a Grand Piano
Grand Skid Boards
This is perhaps the most common way to move grands where there is a crew of men
on hand to carry it. Made of seasoned hard wood frame with white wood cover.
Padded and upholstered with heavy canvas. Each side has two heavy duty flexible
handles for carrying (total of 4 handles). The skid weighs 25 lbs, but it ships at the
70 lb rate because it is oversized for UPS.
5 foot skid board-- No straps or clamp ($90 to $120 ships UPS) SH53A $ 345.50
6 foot skid board-- No straps or clamp ( $90 to $120 ships UPS) SH53B $ 350.50
7 foot skid board-- No straps or clamp ( $95 to $130 ships UPS) SH53C $ 382.50
9 foot skid board-- No straps or clamp- ( $120 to $150 ships Motor Freight Only) SH53D $ 435.00
Grand Skid Boards-- WITH a pair of straps and a clamp for securing piano to skid.
Moving a grand piano is much safer with the clamp used. Clamp to skid or dolly.
5 foot skid board-- With a pair of SH896B straps and a clamp SH54A $ 438.50
6 foot skid board-- With a pair of SH896B straps and a clamp SH54B $ 443.50
7 foot skid board-- With a pair of SH896B straps and a clamp SH54C $ 468.50
9 foot skid board-- With a pair of SH896B straps and a clamp SH55D $ 530.00
Clamp only-- You may want two clamps with a concert grand SH55 $ 99.00

Economy Grand Skid Board
Made in USA. 5 foot or 6 foot skid board. Long rails, batten and headboards are kiln dried select
North American hardwood. Finished 1 3/4" thick deck wood, 3/4" plywood
fastened with plated hardware. Padded & upholstered with heavy canvas.
Rope handles each side; E Track standard. Uses E-straps. SA-PSB-5-ET (5 ft board) $ 180.00
SA-PSB-6-ET (6 ft board) $ 195.00
SA-PBS-7-ET (7 ft board) $205.00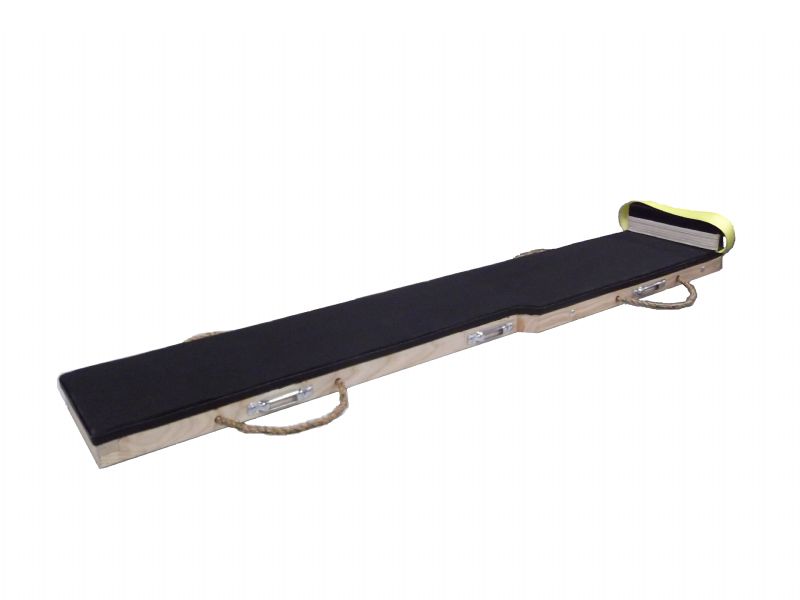 Innovation for moving Grand Pianos
Go to our Trolley page and look for "UPRIGHT PIANO TROLLEYS"
You will find a discussion of moving grands where they do not need to go upstairs.
As far as I know, this is a first. It may make life a lot easier on some movers and institutions.


Quilted Covers For Piano Moving
Constructed of heavy-duty black close-weave duck,
padded with NEW cotton filling. Flannel lined and quilted
in 4 inch diamond pattern with nylon thread. Fitted with
slits in back for hand holds. The padding is NOT jute.
This material is not commercial-- It is specially ordered
for these covers exclusively.
Cover Part No. Price
Uprights--
Uprights 4' 10" No. 4-4'10" $ 299.00
Uprights 4' 6" No. 4-4'6" $ 278.00
Uprights 4' 2" No. 4-4'2" $ 268.00
Studio Uprights 3' 10" No 3-3'10" $ 269.00
Studio Uprights 3' 8" No 3-3'8" $ 259.00
Spinet Uprights 3' 4" No 1-3'4" $ 240.00
Spinet Uprights 3' 0" No 1-3'0" $ 234.00
Grands- Padded long side only for tipping grand onto skids:
Two ropes to tie cover to itself
One size fits all grands up to 7 feet SH49 $245.00
Over 7 feet-- SEND MAIL
Organ moving covers
Spinet organs SH852 $219.00
Console Organs with full pedals SH853 $229.00
Console size organs SH854 $248.00
Pedal Board Cover only SH855 $128.00
We offer covers for storage and the parlor.
They are the full covering pocket type with only the
bottom open. Prices are very reasonable
Bench Cover- Canvas- Completely encloses bench
Part Number SH827 $ 69.00
Mover's Pads
Square locked stitched with nylon thread.
Corners bar locked.
Green drill one side, brown on other.
Size 72" by 80" SH814 $ 35.00
Grand Piano Leg and Lyre Covers- Set of four ample cut quilt pockets for protecting
grand legs and lyres during moving. Will fit legs and lyres from most pianos.
Made of canvas moving cover material.
Cut in box style. 32" long by 22" wide. 4 piece set SH52C $ 204.00
See our new moving pad selection
If you buy a dozen or more, this is a better deal.
Better made, better selection, and better prices.
Piano Moving Accessories
Stair Rollers
Don't drag the piano over the top step, the edge of the porch, or the van. ROLL it over this stair roller.
Make it the easiest step, and prevent damage to the step edge and litigation :-).
21-1/2 inches long- New Part Number SH871 $ 79.00
Keyboard or Jamb Protection-- See our door jamb protectors-- This is a much safer option

Belting-
Traditional durable white 2 inch 3 ply cotton belting for making mover's straps. These days,
most movers and piano stores assemble their own belts.
SH801 $ 4.10 / Foot
Cotton Webbing with Nylon Core
2" wide webbing can be used to make your own moving straps. Has a locking stitch to
prevent ravelling.. Breaking strength-- 2400 lbs
Available in lengths- 5, 10, 25, 50, and 100 feet SM1000 $ 3.10 / Foot
Web Straps for Movers- 3 Ply, 2 inch cotton webbing equipped with 2 inch non-slip buckles.
Sold in pairs
This belt is ready to use.
12 feet long - Pair SH896A-12 $ 65.00
16 feet long - Pair SH896B-16 $ 70.00
20 feet long - Pair SH896C-20 $ 75.00
NOTE: Straps can be made in any length requested. Send E-Mail
Rubber Corner Protectors
This flexible rubber pad will fit on your seb moving strap to protect the
strap as well as your piano. SM1001 $ 7.10 each
"E" Straps-- CLICK HERE
Roller Buckle- Heavy friction buckle used to tighten web straps SH802 $ 10.50 each
MOVE YOUR GRAND PIANO
WITHOUT TAKING THE LEGS OFF....
Where entry ways are wider than the piano is wide-- CLICK HERE
Look at our "Grand Transporter"
This product is also purchased in other trades where heavy tables
and devices need to be moved around with safety and ease.
MOVING UPRIGHT PIANOS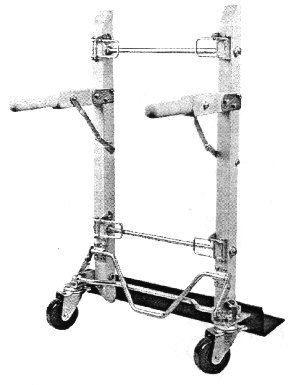 Roll-Or-Kari Piano and Organ Truck
Two dollies with four straps, this truck combo is ready to go. Rubber and felt cushioning
protect your instrument or furniture. The adjustable straps lock around the object
and hold the whole thing together like one big trolley as you move along.
Retractable wheels allow you to easily pick the load up without groaning, and you can set the
piano or orgen down in your van or trailer for the delivery trip. Yet the casters are not able to roll
around as you travel along. Cover in graphic not included. See covers above.
Operation: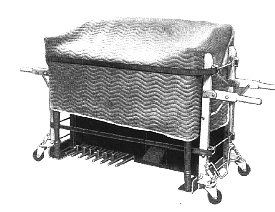 Place one truck at each end of the load, fasten the straps,
and press the foot lever at each end to raise
the load and start moving.
CAUTION: NOT safe for use with Grand Pianos
Four 7 foot straps included.
All four wheels swivel. 1000 lb capacity total lift with both devices used together.
When used to transport soda pop machines, you cannot move the machine loaded.
The handles fold out of the way when not in use or in transit.
This is a very hard working tool for piano businesses and dealers.
Hammond B-3 organ model available- Same price.
Height- 32" / Width- 23" / Liftine lip- 5 inches wide - / Weight- 55 lbs.
Roll or Kari Dual Trucks
Height- 32" / Lifting Width- 23"
Liftine lip- 5 inches deep - / Weight- 55 lbs. SH4021 $ 545.00
Hammond B-3 model
Height- 32" / Lifting Width- 28"
Liftine lip- 4 inches deep - / Weight- 55 lbs. SH4022 $ 535.00
Moving Cover for the Hammond B-3
This cover is heavy moving grade and quilted and fitted SH853 $ 310.00
New Set of Straps for Roll or Kari
One set of four straps - 6 feet long SH4023A $ 55.00
One set of four straps - 7 feet long SH4023B $ 61.00
One set of four straps - 8 feet long SH4023C $ 65.00
One set of four straps - 10 feet long SH4023D $ 75.00
Casters for Roll or Kari SH4023G $ 34.00 each
Putting the Piano Into Storage?
Moths and mice do terrible things to pianos left in storage. Check out the following product.

MOUSE AND COCKROACH TRAPS

Nobody likes to admit that mice have invaded their home. A mouse takes
up residence, collects food from the pantry and dogs food dish, and may
even be well on the way to raise a happy little family of more mice before
you see the tell tale evidence of the mouse.

Mice LOVE upright pianos. They especially like to make house under the
keys. There are three sections under there, living room, pantry, and restroom.
Many times I have opened up an upright piano that had something restricting
the keys from dropping all the way, only to find a mouse apartment in full
progress.

Our MouseMaster traps will catch the mouse when it first enters the piano
down in the bottom area. It smells of natural real peanut butter, but the trap
has a thick layer of extremely sticky substance that catches the mouse and
holds it securely once it steps inside the box. Just fold the box up by the
instructions, remove the protective layer, and put the trap in the bottom of the piano.

You will need to remove the bottom "kick board" by lifting or turning the lever that secures it at the top in order to open the bottom area.

For moth proofing, simply drop some moth balls into the piano cabinet in a small cardboard box with holes in it.

Part Number- Mouse CM72MB

Price- $ 2.00 each or $ 13.00 for Ten
SEE OUR NEW PIANO COVER OPTIONS !
VINYL IN SAND, WHITE, AND BURGUNDY
HEAVY DUTY MACKINTOSH AND SUPREME
MOVING, HANDLING, AND SAFETY EQUIPMENT
Moving pads, shrink wrap, piano skid, E-straps. door jamb protectors, skates, arm power moving straps


ORDER BY PHONE WITH CREDIT CARD
CALL: (800) 338-8863

OR:
Go to Mail Order Form for printing:
Online help available