This page is all about preventing mold and mildew in a piano, AND it is about preventing moisture that can rust piano metal parts and damage the cabinet.
If you already have a mold of mildew problems, GO HERE to find ways to eradicate it.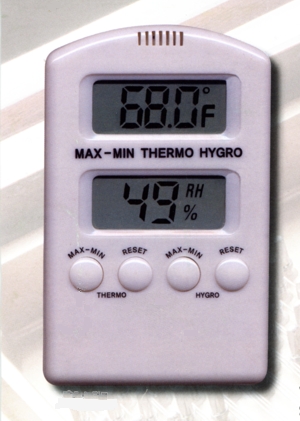 Hygrometer and Temperature Meter
Very accurate, easy to operate, fast response time,
portable battery operation, self-standing or wall
mounting, choice of Celsius or Fahrenheit, large
numerals, but best of all, this meter has a memory
function which reads the highest and lowest
humidity and temperature since you last pushed
the button to check.
Takes one AA battery
Accuracy- + or - 3 to 5%
Weight- 75 grams
Temperature Range- 14 F. to 122 F.
Humidity Range- 25% to 95%
PART NUMBER PRICE
White Case SHHG-DDM $ 45.00

Relative Humidity and Temperature Pen
Ideal for piano technicians and directors
of music in institutions and churches where
there are multiple pianos.
Relative Humidity and Temperature
Pen, Relative Humidity 10 to 90 Percentage
Relative Humidity, Temperature Range 14
to 122 Degrees Fahrenheit, Compact,
Digital Hygro Thermometer, Ideal for use with pianos in homes, Pocket Size,
Degrees Celsius/Degree Fahrenheit Switch, Minimum/Maximum
Part Number- GR4ZG11 Price- $ 86.00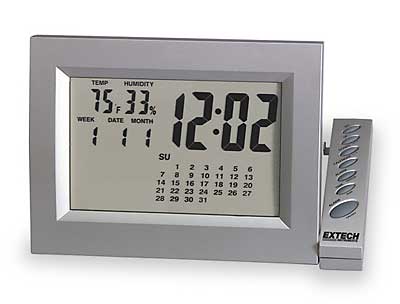 Desk Top Humidity
and Temperature Display
Wall- or desk-mount clocks show percent
of relative humidity, temperature, time, and
date. Degree F. / Degree C. switchable.
12/24-hour alarm clock.
Humidity Range 20-90 Percentage RH,
Temperature Range 14-140 Degrees
Fahrenheit, Large LCD Display, Time,
Date, Calendar
Alarm clock setting features 4-minute snooze
which can be used to time practice,
or set alarm to go off when practice time
is up. Music teachers could use this feature
to time sessions.
Calendar Clock displays monthly calendar
plus month, numeric week, and day in 1.4"
digits. Rotating control panel/desktop stand.
Includes 2 AAA batteries.
Part Number- GR3KB34 Price- $ 62.00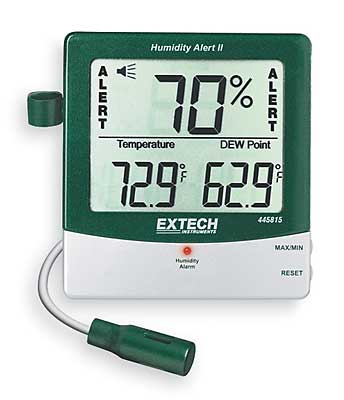 Hydrometer / Temperature Meter with Alarm
Programmable alarm visually and audibly warns when
humidity exceeds a preset Hi or Lo limit. LCD shows
dew point temperature and Min./Max. with reset
function. 0.1 Degree F. resolution. Temperature probe
extends on 18" cable. Temp. accuracy: Plus or
Minus 1.8 Degree F. RH accuracy: Plus or Minus
4%. Includes stand, wall mount brackets, and
batteries.
Relative Humidity Range 10 To 99%, Temp Range
14 To 140 F, Temp Range -10 To 60 C, Humidity
Resolution 1%, Temp Resolution 0.1 F, Temp
Resolution 0.1 C, Dew Point Range 14 To 140 F,
Min/Max Memory, Humidity Probe Range 14 to 140
Deg F, Humidity Probe Range -10 to 60 Deg C,
Cord Length 18 In, Includes Stand, Wall Mount
Bracket, Battery and Instructions
This meter is ideal to use with a Piano Cover, like our
Vinyl Cover, and put the probe under the cover and
the monitor outside where it can tell you exactly what
is happening inside the piano. When someone leaves the door open on
a humid day, or a very dry winter day, and the room temperature
changes suddenly, the inside of the piano may not change a lot. If the
alarm does not go off, you don't need to deal with humidity control.
Part Number- GR5PE71 Price- $ 98.00
For Humidity Control, please see our instructions down the page.
HUMIDITY INDICATOR CARDS