STORE HOURS
9 TO 6 CDT
GMT minus 5 hours
Monday thru Friday
(800) 338-8863
1 (906) 864-1437

PIANO WIRE
BASS STRINGS ONLY
CLICK HERE to go to our page exclusively for PLAIN (TREBLE) WIRE.

ORDERING INFORMATION:
MINIMUM ORDER:
Minimum Order $20
SHIPPING POLICY:
Priority Mail shipping for most items. UPS by request.
You MUST browse the Catalog area, and try to learn what you want. We no longer search our catalog for you.
Have this information ready:
1. Description of parts
2. Part Numbers
3. Prices
4. Dimensions where needed
BEFORE you call us please.
Make sure you are in the catalog area for your kind of piano--
Such as Grand Pianos,
Full Uprights, Spinets, etc.
If you are confused, call us for assistance.
If we do not answer the phone, we are probably here-- Just leave a message- we will return your call (it may not be the same day).
:-)



Bass strings can need replacing for two main reasons. Obviously,
if they break, they need replacing. But, bass strings can also go dull.
After turning them, they may still sound bad, and they may develop
overtones. The answer is to either replace them one at a time, or do
only the worst offenders. When restoring a piano, ALL strings should
be replaced in order to get the original sound back.
SEARCH THE WHOLE SITE
BASS WIRE (Strings)
If your wire to be replaced appears to made of gray iron metal, it probably is.
This is no longer used in the trade because it rusts too easily, and it goes dull
with age. We send only copper wrapped wire.
We now offer many more options than in the past, so if you came here in the past
and wished you had more choices, browse again pleas.
[ Repair: Chapter Seven, Number 64 AND Broken Wire Repair section ]
CAVEAT EMPTOR:
When replacing a bass string on an old piano, it is virtually impossible
to us to duplicate the timbre and sound quality of your old strings in the
area of the string you wish to replace. If this bothers you, then you need
to find your strings at some other supplier. We will not replace a string
simply because you don't like the sound quality. Your old strings are
aged and do not react and vibrate like new steel and copper. If you
understand this, then we will do our best to get close.




UNIVERSAL REPLACEMENT BASS STRINGS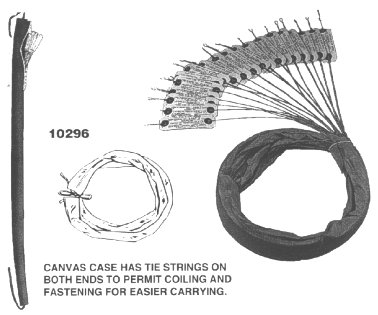 These strings permit you to make on the spot replacement of strings that break, except on the largest concert grands. You simply unwind the copper winding to match the broken string, and install it. The core of universal strings is hexagonal, so when you remove copper winding, you simply crimp the end of the winding a bit, and the core wire holds the winding in place. You will find that an exact duplication will result in a more perfect sound after some time passes. These universal strings are avoided on concert and performance pianos if the customer can afford the exact duplicated strings. The universal strings also have the advantage of being quick to order from us or the suppliers.




The purest sound is assumed to come from a hand made string fitted to your particular piano.
But the universal string can at least fill in until a string made for the piano can be ordered.
The universal string will also save a concert if the tuner is on hand and has strings with him.
PRICES:
Single universal string $ 39.00 each
See Universal String Chart below for broken bass string.
Packet of 6 heaviest strings-- B48 strings SH2006 $ 160.00
Packet of 19 strings-- B48 strings SH2019 $ 300.00
Packet of 37 strings-- S50 strings
For better quality grands that use a lighter core wire SH2037 $ 450.00
Packet of 10 strings-- S50 strings
Very heavy for Steinway Grands and other monsters SH2010 $ 250.00
UNIVERSAL STRING CHART: The following chart gives the order number on the left.
The String Number is the piano trade standard size for the string. On the right is the micrometer size in thousandths.
If you are in a metric measure area of the world, HERE IS A CONVERSION SITE TO USE.
USE THE STRING NUMBER ONLY when ordering.
HERE IS WHAT I NEED TO KNOW:
1. The diameter in thousandths of an inch of the steel core wire (NOT metric please).
2. The diameter in thousandths of an inch of the outside copper, or gray metal, winding (NOT metric please).
Be sure to mic your old string where there is not deformity or rust. Lightly buff with steel wool if rusty.
If you have a question, add one thousandth considering the string stretched and got a bit thinner over the years.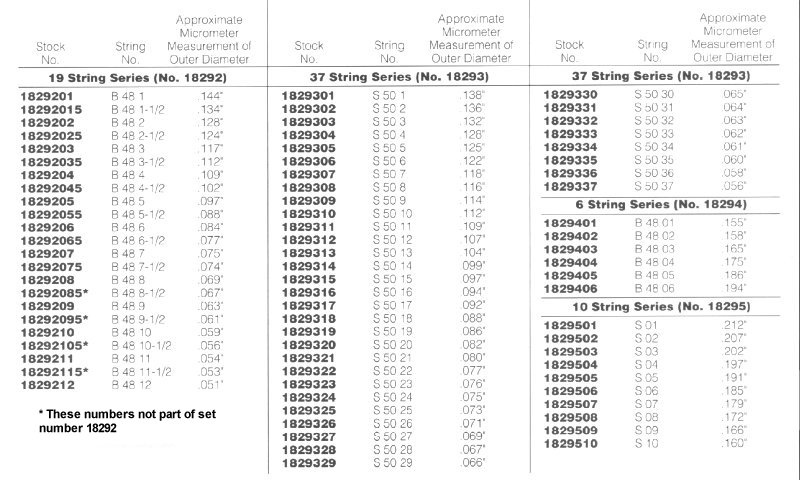 DUPLICATED STRINGS
INSTRUCTIONS FOR SENDING BASS STRING SETS FOR DUPLICATION
Why duplicate strings? All strings below are made on a lathe and hand controlled by craftsmen who do this
for a living. The core is not six sided as with Universal Strings above, and the sound is the best. A universal
string is a very legitimate choice when one string breaks. When rebuilding, only duplicated strings should
be used to get the best results.
ADDRESS FOR SENDING US BASS STRINGS FOR DUPLICATION:

Steve's Piano Service
717 14th Ave
Menominee MI 49858

Be sure to PRINT AN ORDER FORM to send along with your strings.
Instructions are below on this page for packing the strings.
When ordering sets of bass strings made to order it is always helpful if the manufacturer's name and serial number of the piano is given. Be aware that the brand name (such as Baldwin, Kimball, Aeolian, etc) may not be the same as the trade name on the fall board. Try to find the actual company name under the lid or on the harp. This information is very useful even if the strings or a pattern are sent. Production time can be reduced considerably if the string maker can refer to his personal file and notes on various brands of pianos.
Be very cautious in letting off the tension on a piano to replace strings. Loosen ALL strings in the whole scale in several steps to avoid breaking the harp. Do not take off the bass strings and not loosen tension on the treble. Let off the treble also at least to the point that the treble strings sound very dull when plucked.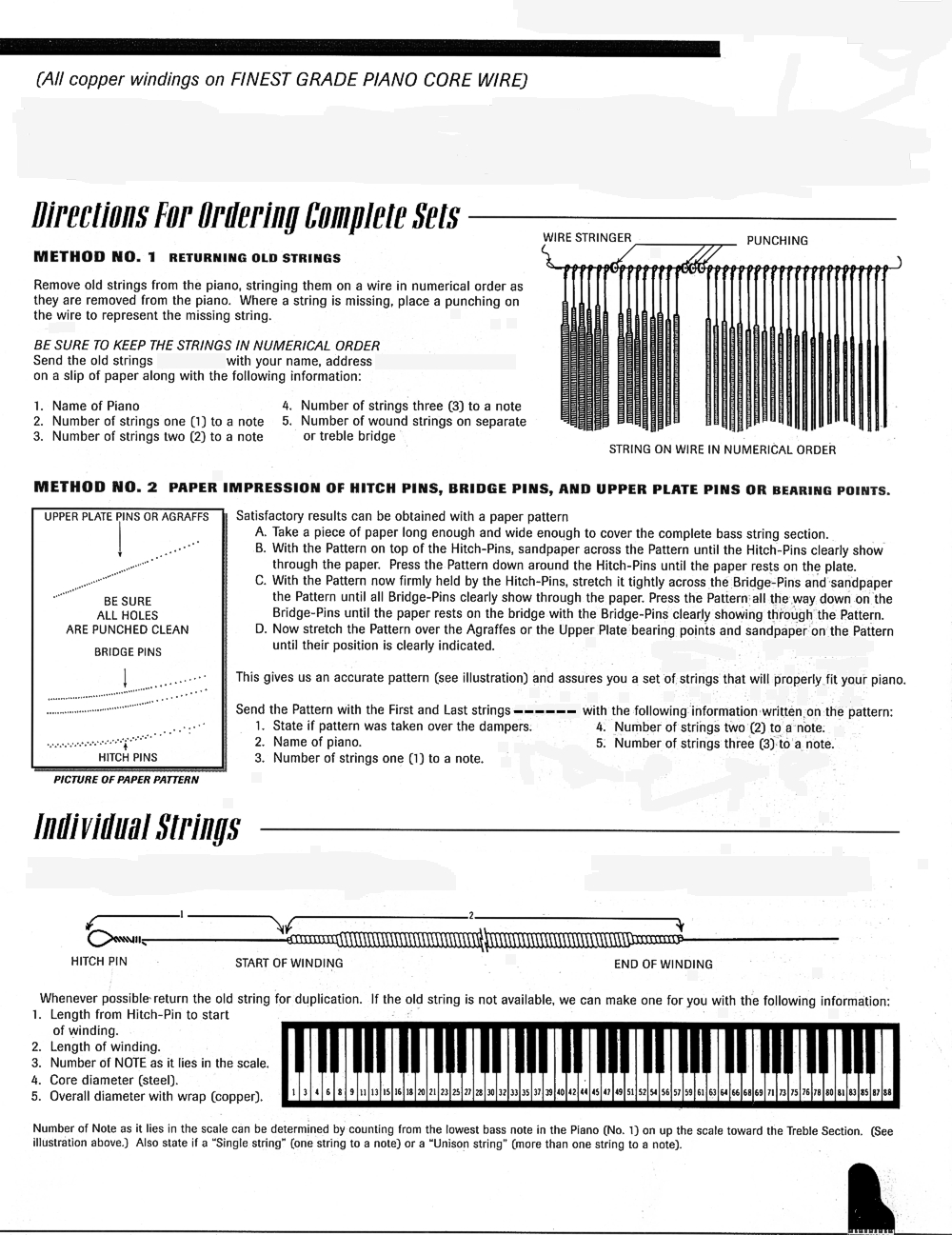 PRICES FOR FULL SETS OF BASS STRINGS:
For sets of strings up to 60 inches in length-- SH2044 $ 15.00 per string
Concert Grands and Square Grands-- SH2045 $ 16.50 per string
PARTIAL SETS of wound bass strings
10 to 20 consecutive single wound strings SH2042 $ 22.00 per string
8 to 20 consecutive double wound strings SH2043 $ 23.00 per string
SHIPPING OF FULL SETS OF STRING.
Shipping-- $ 30.00 to the Midwest USA
Shipping-- $ 40.00 to the West Coast, Deep South, Southwest, and upper New England, USA
This price reflects our shipping to our supplier and their shipping to you by UPS.
PRICE OF ONE DUPLICATED BASS STRING
(This is NOT for universal strings)


PRICE:
Single Wound Part Number 2040 $ 37.00
Double Wound Part Number 2041 $ 40.00
Yamaha Strings Part Number 2047 $ 45.00
Shipping-- $ 12.00 via Priority Mail

ACCESSORIES
Part Description: Part Number Price
Canvas Case for carrying universal Strings-- 72 inches long
Whatever you do, keep your piano strings DRY.
See case in graphic at top of page SH2007 $ 65.00
Stringing Tools CLICK HERE



ORDER BY PHONE WITH CREDIT CARD
CALL TOLL FREE: (800) 338-8863
If there is no answer, please leave a message- we do answer our voicemail

OR:
Go to Mail Order Form for printing:
Online help available