IV GRAND PIANO ACTION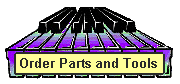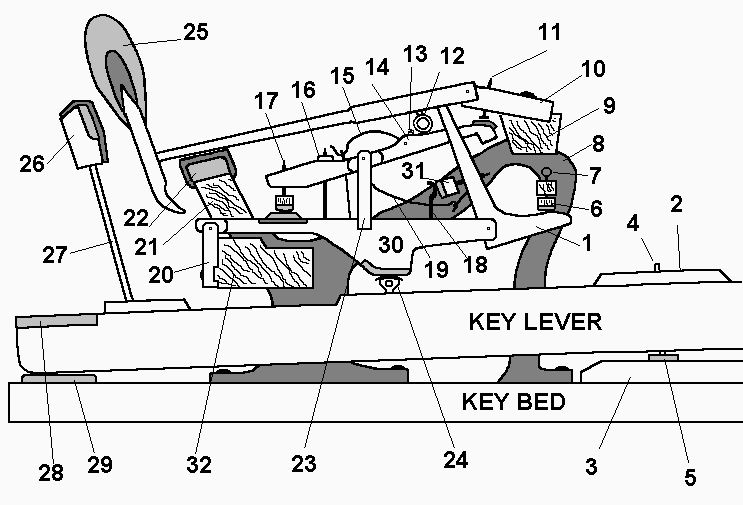 The numbers for the grand action do NOT correspond with those of the uprights above.
If you think this action looks complicated, think of the poor fellow who had to make the first on.
He must have lost his mind.
If this graphic is too big to print out, copy OR "capture" it with a utility which can resize it before you print.

1. Jack
2. Key lever button
3. Balance rail
4. Key lever center pin
5. Center pin felt bushing
6. Jack adjustment button
7. Jack adjustment screw
8. Action metal frame
9. Hammer butt rail
10. Hammer butt-
Usually resting on sand paper
11. Hammer butt stop screw-
Stops rep. lever upward motion
12. Roller or knuckle
13. Butt stop screw
14. Repitition lever
15. Repetition lever spring with silk thread mounting
16. Repetition stop hook- Adjustable
17. Repitition lever adjustment screw
18. Spoon- Jack control
19. Jack spring with silk thread mounting
20. Wippen flange
21. Hammer rest rail
22. Hammer rest rail cushion
23. Repetition lever flange
24. Capstan
25. Hammer
26. Back check
27. Back check wire
28. Damper felt contact point
29. Back key rail cloth
30. Wippen
31. Jack button to adjust jack
32. Wippen rail
See a Grand Action in a virtual demonstration
Exceptional Grand Piano Action Link in several languages
SEARCH THE WHOLE SITE